A few months ago I created a hand-drawn map illustration of Spain for Footprints in Spain by Simon Courtauld, a paperback book published by Quartet Books. They asked for something smart, elegant and of the highest quality; something clearly crafted by hand, not generated on a computer. This was a new type of challenge for me, I had never created a design like this before. I relished the opportunity of trying something new!
Both Quartet Books and the author himself were extremely pleased with my final design and I was chuffed too;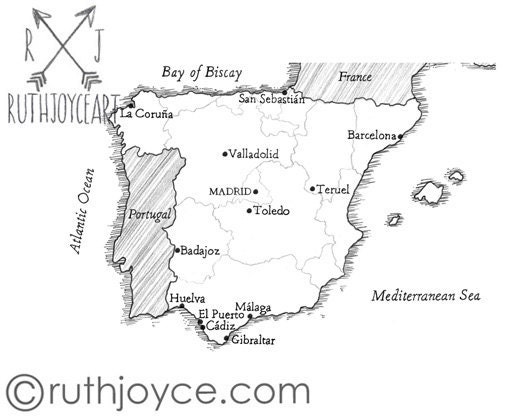 And now I can share the published book with you all, complete with my map illustration. It's really rather lovely seeing something you created by hand printed in such a lovely book! 
If you are a publisher or an author and you are looking for awesome, hand-drawn illustrations for any upcoming publications just email me on hello@ruthjoyce.com or contact me through my contact form.